Road Rehabilitation is a principal activity undertaken by the Group through the HCM Group. Works carried out under road rehabilitation projects include upgrading, pavement repairs, pavement recycling and overlay.
The Group has established a niche in road rehabilitation works, achieved through constant research and development and keeping abreast with the latest technology in pavement design and construction and in particular, pavement recycling technology.
The Group has vast experience in various techniques of pavement rehabilitation, which includes both conventional techniques as well as advanced asphalt technology in pavement recycling.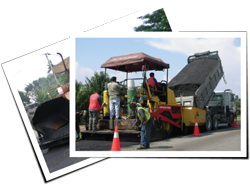 Techniques some of the conventional techniques utilised by the Group are:
Pavement Overlay or Resurfacing
This method is generally used for the general pavement strengthening where a layer of new asphalt is laid on top of the old pavement.
 
Mild and Pave (Cut & Patch)
This is applicable where severe cracking of surface deterioration has occurred in the pavement. A milling machine is used to remove the effected area before a new layer of asphalt is laid in its place.
 
Advanced Asphalt Technology
In keeping with its philosophy of staying abreast with changes in pavement technology, the Group has been successful in developing its technical expertise in various advanced asphalt techniques, such as:
 
Very Thin Overlay
This is technique where a thin layer of wearing course, approximately 20mm thick, is laid with a modified bituminous binder. This pavement exhibits high performance in terms of durability and safety. The Group applied this technique on the Bangi-Seremban and Ipoh-Changkat Jering sections of the North-South Expressway.
Porous Asphalt
This technique basically involves laying porous asphalt with a modified bituminous binder. Due to its porous nature, water drains away from the pavement easily, thereby significantly reducing ponding and splashing. It also exhibits better skid resistance and lower noise levels.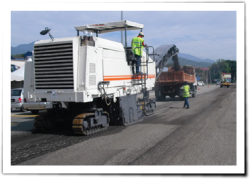 Spraying Waterproof Tackcoat